Dear Guests
Our beautiful town of Rüdesheim am Rhein is a state-approved tourist destination and, in accordance with Section 13 of the Municipal Tax Act in Hesse, will charge a tourism fee of EUR 2 per guest and night from July 1st, 2021. Business travelers are excluded.
The income from this contribution goes exclusively to tourism projects so that we can make your stay in the region even more attractive.
The survey area is the area of ​​the municipality/city of Rüdesheim & Assmannshausen.
For the use of facilities and for participation in events that require special additional expenses, a special entrance fee may be charged in addition to the tourism fee.
We wish you a pleasant and eventful stay in the Rheingau!
The constant improvement of our tourist offer is very important to us.
Do you have any suggestions? Then please send them to info@rheingau.com. Thanks very much!
Association for Economic and Tourism Promotion Rüdesheim and Assmannshausen am Rhein e.V. (W.T.F.)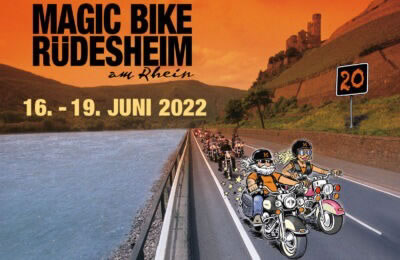 MAGIC BIKE RÜDESHEIM AM REIN / From 16 to 19 June 2022
Dear friends and partners of Magic Bike Rüdesheim, the 20th Magic Bike will take place from 16th to 19th June 2022.
All tickets purchased from our ticket provider Eventim are valid. We look forward to celebrating with you again.
Stay healthy! Stay magic!
We look forward to seeing you again in Rüdesheim am Rhein!